Michigan in the Civil War
Moore, Orlando, 1827-1890.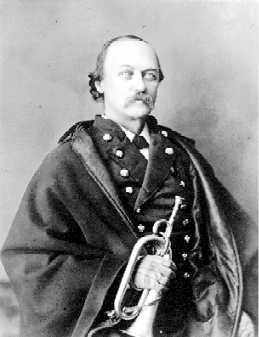 Orlando Moore, from his papers
A typescript copy of the original military records written by Colonel Orlando Hurley Moore, United States Army, 1856-1865. In California in 1861, Lieutenant Moore helped to foil the plot to carry the Pacific states out of the Union. While Provost Marshal in Louisville, Ky., 1863, he attempted to break up the system of seizing Negro servants of officers of the U. S. Army and to protect their rights. He gives a graphic account of the battle of Tebb's Bend on the Green River, July 4, 1863, in which he declined to surrender because it was the Fourth of July, of the battle of Franklin, and of the capture of Fort Anderson in February, 1865. Moore was in the regular army at the outbreak of the war; lieutenant colonel, 13th Michigan Infantry, 1861-1862; colonel, 25th Michigan Infantry, 1862-1865. He was made brevet major, U. S. Army, for gallant and meritorious service at Tebb's Bend, and brevet lieutenant colonel of the U. S. Army in 1865. At the close of the Civil War, he returned to service in the regular army. Moore was from Schoolcraft, Mich.
This collection is available on microfilm for interlibrary loan.