Michigan in the Civil War
McKibbin, May E.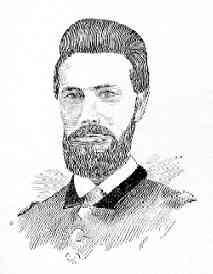 John A. Elder, from Wells B. Fox, What I Remember of the Great Rebellion. Lansing, Mich., 1892.
The collection contains one letter (Dec. 13, 1864) written by John A. Elder to Augusta E. Barnes from the camp before Petersburg, Va. Elder was in Company E, 8th Michigan Infantry, and rose from corporal to captain (1861-1865). His letter tells of the cities he saw in traveling from Detroit to deliver a prisoner to Fort Delaware, and then on to Petersburg. He describes Fort Delaware, picket duty, an artillery duel and expresses his regard for General Lee. Elder was from Lansing, Mich.