Michigan in the Civil War
Adams, Charles Oscar, b. 1831.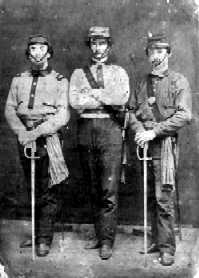 Charles K. Adams, Israel H. Elliott, and Albert Nye, from UM Photos vertical file
Thirteen letters written to his parents and his wife while he was serving in Company I, 3rd Michigan Cavalry, 1861-62. He tells of life in camps Anderson and Benton in St. Louis, comments on officers, quarters, slowness in equipping the cavalry units, picket duty, weather, and poisoned food sold to the soldiers by citizens. He describes the train trip to St. Louis, the use of balloons, and a Washington's birthday celebration. Much of each letter is given to religious reflections. Adams was discharged in July of 1862 for disability. Adams was a resident of Fentonville, Mich.
This collection is available on microfilm for interlibrary loan.