Michigan in the Civil War
Browse by Name: Winchell, Mary R.
Winchell, Alexander, 1824-1891.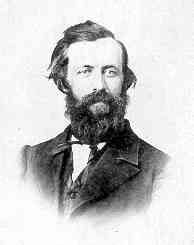 Alexander Winchell, from his papers
Winchell was professor of geology and paleontology at the University of Michigan, director of the Michigan Geological Survey, chancellor of Syracuse University, and popular lecturer and writer on scientific topics. His papers include correspondence, diaries, and other papers relating to his experience leasing several abandoned plantations in the Mississippi Delta in 1864. Winchell's brother Martin was killed by guerrillas in May 1864 while managing one of the plantations. At least ten letters describe the project and the Winchell family's reaction to its dangers: four letters (June 29-Sept. 25, 1864) from Winchell's sister Mary R. Winchell, two letters (July 12 and Oct. 10, 1864) from Winchell's father Horace Winchell, and letters from Alexander Winchell to Mary Winchell (June 3, 1864), to Senator Zachariah Chandler (May 2 and June 6, 1864), and to General Henry W. Slocum (June 6, 1864). Winchell's diaries describe the evolution of the scheme, beginning with the first mention of the idea on Nov. 29, 1863. His field books describe two trips to the plantations (Jan.-Mar. and July-Aug. 1864). The collection also includes a copy of a partnership agreement (Mar. 4, 1864) for managing two plantations and an itemized list (May 26, 1864) of losses to guerrillas.