Michigan in the Civil War
Browse by Name: Wing, Lucius M.
Griffin, Eli Augustus, 1833-1864.
This collections is available online.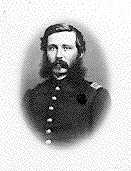 Eli A. Griffin from Milton Chase papers
Two diaries (1862, 1864) give good descriptions of troop movements, conditions in the army and countryside, and observations on the commands under which he served. The 1862 diary describes the Mississippi campaign under General Butler in which Griffin was a captain in Company A, 6th Michigan Infantry. The 1864 diary tells of Sherman's Georgia campaign in which Griffin was killed. He was then major, later lieutenant colonel, in the 19th Michigan Infantry.
There are one hundred thirty-three letters (1861-1864) written to relatives and friends from Fort Wayne, Baltimore, Ship Island, Baton Rouge, New Orleans, Port Hudson and McMinnville. Many are concerned with home affairs, but they also express admiration for the men in his company and criticism of the officers and of the political intrigues in company promotions. There is a good account of a march and skirmishes in the swamps of Louisiana along the railroad with camps among the alligators and mosquitoes, a description of Ship Island and its sickness and hardships, and reports of the fall of New Orleans, the battles of Baton Rouge, Port Hudson and those on the march with Sherman. The letters from McMinnville tell of the building of a bridge and fortifications and of the friendly relations between himself and the Michigan troops and the people of the area. Griffin was from Niles, Mich. and was killed at Golgotha Church, Ga.
The collection includes letters from three other soldiers:
John Bennett. A letter written to Mrs. Griffin concerning the death and disposition of the property of Eli Griffin. Bennett, of Centreville, Mich., was in the 19th Michigan Infantry, 1862-1865, as assistant surgeon and surgeon.
Paschal A. Pullman. A letter concerning the death of Eli Griffin. Pullman, of Allegan, Mich., enlisted in the 19th Michigan Infantry as corporal, in 1862, was promoted to second lieutenant in 1864, and killed in action at Peach Tree Creek, Ga., July 20, 1864, while commanding the company.
Lucius M. Wing. Two letters (1864) concerning the death and disposition of the property of Major Eli Griffin. Wing, of Coldwater, Mich., was in the 19th Michigan Infantry as second lieutenant, lieutenant, quartermaster, and captain, 1862-1865.
This collection is available on microfilm for interlibrary loan.