Michigan in the Civil War
Browse by Name: Bragg, Braxton
Trowbridge, L. S. (Luther Stephen), 1836-1911.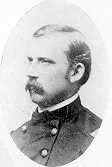 L. S. Trowbridge, from his Brief History of the Tenth Michigan Cavalry. Detroit, 1905.
Trowbridge, of Detroit, Mich., entered the service in the 5th Michigan Cavalry as major in 1862, became lieutenant colonel in the 10th Michigan Cavalry in 1863 and colonel in 1864. He was made brevet brigadier general and brevet major general for faithful and meritorious services.
His Civil War papers include an account of the 5th Cavalry's pursuit of Lee's army after the battle of Gettysburg; one letter from Colonel Russell A. Alger to Mrs. Trowbridge (July 4, 1863); and six letters (July 1, 1863-June 25, 1864) from Colonel Trowbridge to his wife. In these letters he gives an account of the battle of Gettysburg and of the death of Major Noah Ferry; comments on the poor people of the South and the habit of "dipping"; speculates on the coming campaign under General Grant; describes the destruction of railroads, bridges, etc., on the march through the Carolinas; and expresses his gratitude for the heroic action of Willie Dunn in helping him out of a bad situation at Gettysburg.
The collection also includes a copy of a report (May 20, 1863) from Confederate General Braxton Bragg to General Samuel Cooper in Richmond, with attachments, describing the Fall 1862 campaign in Tennessee and Kentucky, including the battle of Perryville. Also one letter (Apr. 24, 1864) from an unidentified Confederate civilian in East Tennessee to his cousin, describing conditions there; a letter (Feb. 22, 1865) from General Davis Tillson to Secretary of War Edwin Stanton recommending Trowbridge for promotion; and a testimonial (Aug. 24, 1865) to Colonel Trowbridge from officers of his regiment.