Michigan in the Civil War
Browse by Name: Bryant, Albert H.
Howell, Seymour, 1841-1909.
This collections is available online.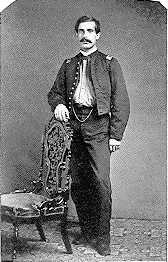 Seymour Howell, from his papers
A diary (1864) containing brief entries concerning his work. Howell, of Saline, Mich., entered the service in Company F, 6th Michigan Infantry, as a second lieutenant, 1861, and became a major in 1864. The collection also includes one letter (June 22, 1864) from Morganza, La., to Mrs. Malinda Bryant, telling her of the death of her son, Albert H. Bryant, Company C, 6th Michigan Infantry.
This collection is available on microfilm for interlibrary loan.