Michigan in the Civil War
Browse by Name: Buell, Sidney D.
Buell family.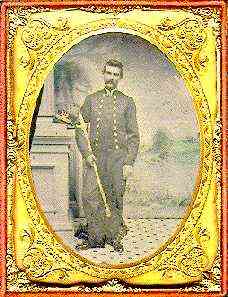 Sidney D. Buell, from the family papers
The papers of this Upstate New York and Union City, Mich., family include two letters (July 2 and July 12, 1863) of Frank M. Buell of Battery D, 1st Michigan Light Artillery, and a letter (July 24, 1863) from Samuel J. Mills,surgeon of the 4th U.S. Artillery Regiment, relating to the death of Frank Buell. The collection also includes two letters (Aug. 9 and Aug. 16, 1863) of Sidney D. Buell, also of Battery D.