Michigan in the Civil War
Browse by Name: Carlisle, Hannah L.
Carlisle family.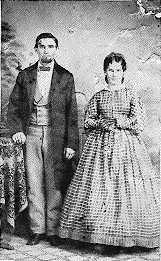 Daniel and Hannah L. Carlisle, from the family papers
The papers of the Daniel Carlisle family of Buchanan, Mich. include thirty-two family letters (Aug. 17, 1862-Apr. 7, 1866) relating to Mrs. Hannah L. Carlisle, who served as a nurse during the Civil War. Seventeen of the letters were written by Mrs. Carlisle. They are chiefly from the Post Hospital at Columbus, Ky., where she was matron. She expresses her dislike of Copperheads and Secessionists. She tells of troop movements on the river, raids of guerrilla bands, the destruction of Secessionists' homes, hospital life, food and a Thanksgiving dinner, the celebration at the fall of Vicksburg, and the capture of Jefferson Davis. She often comments on the weather and the plague of mosquitoes. Later Mrs. Carlisle was in charge of a Columbus, Ky., school for the American Freedmen's Aid Commission, and she tells of the clashes between military and civil law officers, the plight of the Negroes, and the rough treatment accorded them.