Michigan in the Civil War
Browse by Name: Chase, Milton
Chase, Milton, b. 1837.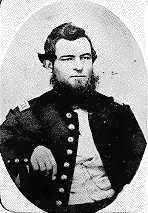 Milton Chase, from his papers
Chase, an Allegan County, Mich., physician and public health officer, served as hospital steward and assistant surgeon in the 6th Michigan Infantry, 1861-1864. His papers include a scrapbook, ca. 1874-1903, which contains clippings of his newspaper articles concerning the history of the 6th Michigan Volunteers.