Michigan in the Civil War
Browse by Name: Comte, Victor E.
Comte, Victor E., 1833-1864.
This collections is available online.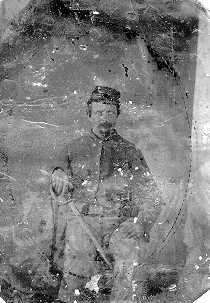 Victor E. Comte, from his papers
Fifty letters (1862-1864) written to his wife while he was serving in Company C, 5th Michigan Cavalry. Many of the letters are written in a humorous vein as he tells of camp life, food, army clothing, picket duty, scouting and bushwhackers. He is much in earnest as he expresses his attitude toward slavery, foraging from destitute Southern families, and re-enlisting. There is an account of the battle of Gettysburg and the casualties among Michigan regiments, and also of Williamsport and Falling Waters where four Michigan cavalry regiments engaged eight infantry regiments of Lee's retreating army. Comte, from Wayne County, Mich., died July 11, 1864 of wounds received in action. These letters, written in French, have been translated.
This collection is available on microfilm for interlibrary loan.