Michigan in the Civil War
Browse by Name: Custer, George Armstrong
Custer, George Armstrong, 1839-1876.
George A. Custer, Library of Congress, Prints and Photographs Division [LC-B8172-1613]
A photocopy of a letter (Oct. 29, 1864) written to an unknown person discussing a victory over General Early and the editorial policy of the Detroit Free Press. Custer, from Monroe, Mich., was a lieutenant in the U. S. Cavalry at the outbreak of the war. In June 1863 he assumed command of the Michigan Cavalry Brigade as brigadier general and was breveted five times during the 1863-1865 period of the war.
Kidd, James Harvey, 1840-1913.
This collections is available online.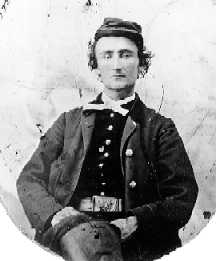 James H. Kidd, from his papers
About fifty letters (Dec. 1862-Nov. 1865) written to his parents while he was serving in Company E, Sixth Cavalry as Captain, Major, and Colonel. He was wounded in action at Falling Waters, Md., July 14, 1863, but rejoined the regiment in November. He was wounded again at Winchester, Va., September 19, 1864. Brevet Brigadier General June 15, 1865 for gallant and meritorious services in the Shenandoah Valley.
Their first camp at Washington is described. There are marches, scouting expeditions, picket duty. Then there is the campaign with General Kilpatrick in which there are encounters with Stuart's Cavalry, the battle of Gettysburg, and the pursuit of Lee's Army. Many rebels gave themselves up, being "heartily tired of this useless war."
In the battle of Falling Water, he was wounded in the foot and sent to a hospital in Washington. Back in the regiment, he tells of a surprise attack by Stuart on Custer's position. In December they prepare for winter quarters, and he describes the camp in detail. In the spring they are on the march again, and he comments on Kilpatrick's futile raid on Richmond. There are many references showing his and his men's admiration for and faith in General Custer ("We swear by him. His name is our battle cry."); also General Sheridan and General Grant are admired.
In a vivid picture of the fierce fighting in the battle of Hawe's Shop, he again gives Custer's part in the action ("Under him a man is ashamed to be cowardly; under him our men can achieve wonders."). In June 1864 they are on a fourteen day raid--purpose unknown--but there is the engagement of Trevilian Station, Va. During this time he learns he has been commissioned Colonel. A petition signed by his men and a letter of commendation by General Custer are among these letters.
In October, 1864 there is a night raid on their camp by Early's men. The camp, in charge of General Wright (who is drunk at the time), is in a panic, the men flee, and a real battle--Cedar Creek--ensues, with Sheridan arriving in time to stop the panic and scatter the enemy.In December, 1864, the raids on the Shenandoah Valley began, destroying millions of dollars' worth of property, driving off cattle, sheep, horses, and hogs, and burning barns, mills, hay, grain in an attempt to destroy the Southern nation.
In March, 1865, Colonel Kidd was president of a military commission for the trial of offenses not coming under court martial. At the end of the war he visited Richmond, Va., and described the city. He also visited Libby and Belle Isle prisons and Jefferson's home. He talked with many rebel men who expressed their feelings about the war.
From June to November, 1865, he was in the West at Fort Leavenworth, Kan. to Fort Laramie and beyond after a party of Sioux and Cheyenne Indians. He described the march, the country, camp life, the men making up the company, and their guns and rations. On November 7, 1865, Kidd, of Ionia, Mich., was mustered out.
The collection also includes letters from several other soldiers:
George A. Custer, Library of
Congress, Prints and Photographs
Division [LC-B8172-1613]
George Armstrong Custer, of Monroe, Mich., commander of the Michigan Cavalry Brigade. Letter (June 3, 1864) recommending Kidd for promotion, and two other letters (Oct. 3 and Oct. 27, 1864)
George Gray, of Grand Rapids, Mich. He was Colonel in the 6th Michigan Cavalry (1862-1864), and resigned because of disability. Three letters (1864) to Major Kidd praise him for his services and the efficiency of his regiment; and tell him that Governor Blair will give him a commission as Colonel.
George W. Simmonds, of Kalamazoo, Mich. One letter written to Colonel Kidd's father August 1, 1865, to let him know that his son arrived in Fort Laramie, had been sent on an expedition against the Indians, and would be unable to write home for a month or so. Simmonds enlisted in Company L, 6th Michigan Cavalry as first sergeant August 14, 1862; commissioned second lieutenant May 1864; commissioned first lieutenant and commissary December 10, 1864; transferred to first cavalry November 7, 1865; mustered out at Salt Lake City March 10, 1866.
Henry E. Thompson, of Grand Rapids, Mich. One letter sent, September 30, 1863, from Culpepper Court House, Va., gives Major Kidd news of the men of their area. Thompson was in Company A, 6th Michigan Cavalry (1862-1865) as captain and lieutenant colonel. He was wounded in action at Hunterstown, Va., July 2, 1863; and discharged June 1, 1864 because of wounds received in action. Brevet Colonel, March 13, 1865, for gallant and meritorious services during the war.
This collection is available on microfilm for interlibrary loan.
Lyon, Solomon T., 1835-1890.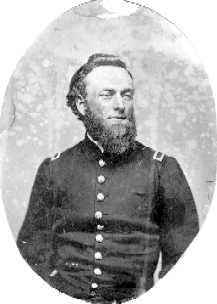 Solomon T. Lyon, from his papers
Twenty-three letters (1864-1865) written to his wife while he was serving as lieutenant and captain in the 5th Michigan Infantry. He describes the battlefield of Chancellorsville; tells of skirmishes and battles engaged in, including the Wilderness and the siege of Petersburg; gives the comments of rebel prisoners and deserters on the war, and the South's verdict on Lincoln versus McClellan in the coming election; lists the types of church activities in camp; and expresses his feelings at the death of Lincoln. Lyon was from Howell, Mich.
The collection also contains a handwritten copy of a letter (Oct. 16, 1864) written by George A. Custer to his father. He expresses his attitude towards the war and a future peace.