Michigan in the Civil War
Browse by Name: Fox, Dorus M.
March, Edwin J.
This collections is available online.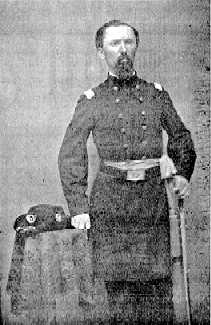 Frederick Schneider, from his Incidental History of the Flags and Color Guard of the Second Michigan Veteran Volunteer Infantry. Lansing, Mich., 1905.
March, from Hillsdale, Mich., was second lieutenant in the 27th Michigan Infantry, lieutenant colonel in the 2nd Michigan Infantry, and colonel in the Ninth Army Corps. He was wounded in the assault upon Petersburg, Va. The collection includes two letters (1864) written to Colonel Dorus Fox concerning false reports about buying commissions involving both officers. It also contains twenty letters to March concerning recruiting and four letters to him from fellow officers:
John C. Boughton, of Constantine, Mich. One letter (Apr. 4, 1865) written from Petersburg, Va. He tells Colonel March of the 2nd Michigan Infantry's entry into the city and how he put the regiment's colors on the Custom House. Boughton was in Company G, 2nd Infantry, and rose from sergeant, 1861, to lieutenant colonel in 1865. He was made brevet major for conspicuous gallantry in the assault on Fort Stedman, Va.
Timothy R. Fish, of Battle Creek, Mich. One letter (July 6, 1863) written from Washington, where he was on guard duty, to Colonel March. He gives news of the men in the regiment and of their promotions. Fish was in Company C, 2nd Michigan Infantry, 1861-1865, and rose from corporal to captain. He was wounded in action in March, 1865.
Dorus M. Fox, of Lyons, Mich. Twenty letters (1864) written to Lieutenant Edwin J. March concerning recruiting and equipping companies. Fox was a major in the 9th Michigan Infantry and colonel in the 27th. He was wounded in action near Petersburg, Va.
Frederick Schneider, of Detroit, Mich. Two letters to Colonel March. (June 3 and 25, 1865) in which there is news of his regiment encamped in Washington, a description of a colorful evening parade of his division in which lighted candles were stuck in the muzzles of the guns, and of the attention created by names of the regiment's twenty-six battles on their colors in the grand review. Schneider served all through the war in the 2nd Michigan Infantry and rose from corporal to colonel. He was wounded in action, and a prisoner in several Confederate prisons, 1864-1865.
The collection also includes one letter (July 11, 1862) from Dan to his brother Cal. Dan was a member of Company E, 1st Michigan Infantry, and wrote from Harrison Landing, Va. He describes the regiment's retreat on the Peninsula and encourages Cal not to enlist. Dan may have been Daniel Cook of Branch County, Mich., or Daniel Mintline of Calhoun County, Mich.
This collection is available on microfilm for interlibrary loan.