Michigan in the Civil War
Browse by Name: Hathaway, Arthur B.
Hathaway, Arthur B., 1840-1884.
This collections is available online.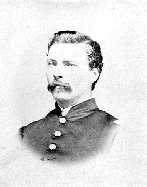 Arthur B. Hathaway, from his papers
Hathaway was a resident of Owosso, Mich., who served in the 9th Michigan Infantry. He later lived in East Saginaw, Mich. Hathaway's papers include orders and other official documents relating to his Civil War service.
This collection is available on microfilm for interlibrary loan.