Michigan in the Civil War
Browse by Name: Hempstead, Henry Mortimer
Hempstead, Henry Mortimer, 1832-1916.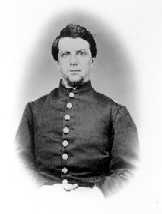 Henry M. Hempstead, from his papers
A copy Hempstead made from his small pocket diaries (1861-1865). Where breaks occurred because of lost or destroyed diaries, he has filled in these omissions with extracts from his letters. The original diaries and letters were written while he was serving as quartermaster sergeant and later as captain in Company M, 2nd Michigan Cavalry. The daily routine of army life, weather, sickness, foraging, skirmishes and battles, especially those of Booneville, Perryville, Chickamauga, Franklin, and Nashville, make up the items in these very interesting and exceptionally well-written diaries and letters. The collection also includes a typescript of the diary. Hempstead was from Marshall, Mich.