Michigan in the Civil War
Browse by Name: Bailey, Edward G.
Bailey, Ira K., 1843-1863.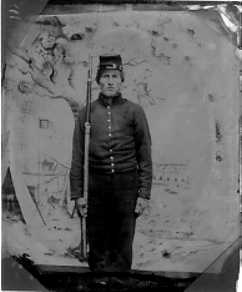 Ira K. Bailey, from his papers
Twenty-six letters (Dec. 10, 1861-June 3, 1863) written to his parents. He mentions something about camp life, food, the weather, movements of the regiment towards Cumberland Gap, foraging and skirmishing, and a battle near Kelly's Ford in which he took part. He is chiefly concerned with writing and receiving letters and getting his pay home safely. One letter tells of a bout with ague, and a letter from O. Barnes to Ira's father concerns the same illness. Bailey enlisted in Battery G, 1st Michigan Light Artillery, Dec. 17, 1861, but transferred to the regular army 5th Cavalry Regiment, whose officers he greatly admired, Nov. 25, 1862. He was wounded in the battle of Beverly Ford, Va., June 9, 1863, and died of his wounds on the 15th. Letters from Edward Hughes, Second Lieutenant William Brophy, and two of Ira's sisters give details of his death. Ira Bailey lived in Ransom, Mich.
This collection also includes four letters (Nov. 13, 1861-May 31, 1862) of Edward G. Bailey, a brother of Ira, written to members of his family.He speculates about coming battles, especially around Corinth, Miss., and speaks of the death of General Zollicoffer, a soldier's fare, crops, sickness and lack of care in the hospitals. Bailey served in Company E, 3rd Minnesota Infantry.
Also two very interesting letters of Lewis J. Rice, a brother-in-law of Ira Bailey, (Dec. 21, 1864; Jan. 10, 1865) in which he tells of foraging from Atlanta to Savannah and the finding of food, clothing, merchandise,and drugs buried in gardens and swamps, the destruction of railroads and other property from Chattanooga to Atlanta and Savannah, and the burning of Atlanta. Rice was in Company C, 2nd Minnesota Infantry.
Also one letter (Aug. 2, 1864) written by John F. Schermerhorn from Decatur, Ala., in which he tells of their Fourth of July dinner and of the death of Ralph Stout, a friend from Ransom who was in his company. Schermerhornen listed in Company F, 18th Michigan Infantry, as sergeant, in 1862, and was killed in action at Athens, Ala., Sept. 24, 1864.