Michigan in the Civil War
Browse by Name: Lockley, George
Lockley, George, b. 1836.
This collections is available online.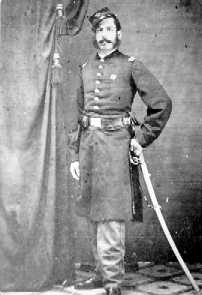 George Lockley, from his papers
Lockley was an Ann Arbor, Mich., resident, a colonel in the 1st Michigan Infantry. His papers (1861-1866) include diaries, transcriptions of diaries, maps of battles in which he participated, including the first and second battles of Bull Run, Antietam, Fredericksburg, Chancellorsville, and Gettysburg, and miscellanea, also include a copy of a report by Lt. Colonel Benjamin D. Pritchard on the capture of Jefferson Davis and other Confederate leaders by the 4th Michigan Cavalry.
This collection is available on microfilm for interlibrary loan.
Finding aid available in library