Michigan in the Civil War
Browse by Name: Mix, Frank W.
United States. Army. Michigan Cavalry Regiment, 4th (1862 1865)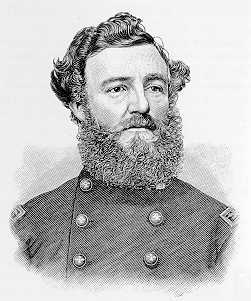 Robert H. G. Minty, from Vale, Joseph. Minty and the cavalry. Harrisburg, 1886.
A record, compiled by David H. Haines of Company L from his journal and other reports, of the Fourth Michigan Cavalry from its organization, August 28, 1862, to mustering out, July 1, 1865. It includes an account of the battle of Shelbyville extracted from the report of Major Frank W. Mix; Colonel Robert Minty's report of the battle of Monday Creek, Ga.; Haines' account of Wilson's raid through Alabama and Georgia; and Lieutenant Colonel Pritchard's official report of the capture of Jefferson Davis. There are also lists of battles and skirmishes in which the regiment participated and of its officers and casualties.
Mix, Elisha, 1818-1898.
Mix was a captain, later colonel, in the 8th Michigan Cavalry. The collection contains about 90 letters to his family (1863-1865) describing activities and events while serving in the Civil War (original letters and typescripts); speeches given after the war; personal and service-related documents. There are also scattered letters of family members, Frank W. Mix, serving with the 4th Michigan Cavalry (letters dated 1863-1865, include description of the battle of Stones River); Edward H. Mix, serving with the 4th Connecticut Infantry (letters dated 1861-1862); and Amelia Mix, wife of Elisha Mix.