Michigan in the Civil War
Browse by Name: Mogk, George C.
Mogk, George C., 1832-
This collections is available online.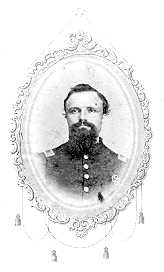 George C. Mogk, from his papers
Mogk, of Ann Arbor, Mich., enlisted in Company E, 1st Michigan Infantry, as first lieutenant, April 24, 1861; mustered out August 7, 1861; re-entered service in Company K as first lieutenant August 17, 1861; transferred to Company G, July 5, 1862; was taken prisoner at the second battle of Bull Run August 30, 1862; and confined in Libby Prison; commissioned captain of Company K, August 30, 1862, and mustered out Sept. 26, 1864.
One letter from Camp Union, October 13, 1861, was written for him to his sister by a friend. Mogk says he has been ill but "I pass my time very pleasantly under the circumstances. In the morning I read Baltimore and Washington papers, and in the afternoon I amuse myself killing secession flies."
This collection is available on microfilm for interlibrary loan.