Michigan in the Civil War
Browse by Name: Noll, Conrad
Noll, Conrad, 1836-
This collections is available online.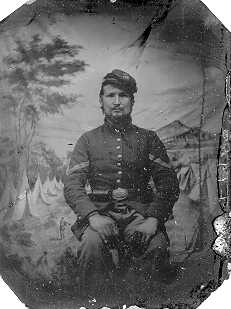 Conrad Noll, from his papers
Three diaries (1863-1865) kept while he was serving in Company D, 20th Michigan Infantry. Short daily entries tell of camp activities, rations, the weather, movements and activities of the regiment, skirmishes and battles. The battles include the fall of Vicksburg, Blue Springs, the siege of Knoxville, the Wilderness, Ny River, Spotsylvania, Cold Harbor, and Petersburg and the battle of the Crater where he was wounded. The rest of the diary entries are concerned with his stay in hospitals and furlough home. He mentions the death of Lincoln and a procession in Detroit. Noll, from Ann Arbor, Mich., was awarded the Congressional Medal of Honor.
This collection is available on microfilm for interlibrary loan.