Michigan in the Civil War
Browse by Name: O'Callaghan, Thomas
Woodruff, D. O. (David Oliphant)
This collections is available online.
The papers of this Niles, Mich., farmer include sixty-four letters written by his son Charles Woodruff to his parents. The letters are detailed accounts of camp life and duties, the transporting of prisoners, marches, skirmishes, the battle of Green River and the attack upon Atlanta. He attended a play in which John Wilkes Booth acted, and met "Frank Martin," a soldier in his regiment who was in reality a woman, real name never revealed. He explored a cave, described a raid by Morgan's men who wore Union blue, the devastation at Harpers Ferry, and the pathetic condition of the released Union prisoners at Wilmington. He commented on officers and company jealousies, intrigues and politics, on the Louisville citizens' high regard for the men of the 25th, and gave the distinction between "Western Troops" and "Yankees."
The collection also includes letters from or about other soldiers:
C. H. Combs, who served in the New York Marine Artillery. One letter (Sept. 8, 1862) written from Camp Arthur, Long Island.
Joseph H. Haynes, of an unknown regiment. One letter (Sept. 18, 1865) from Knoxville.
William Hurd, a civilian. One letter (Dec. 14, 1862) from Baltimore relating to the condition of Frank Woodruff in hospital.
Thomas O'Callaghan. Four letters (1864-1865) telling about transportation difficulties in reaching his regiment, hard tack full of worms, Lee's surrender and Lincoln's death, the beauties of Raleigh, N.C., and the building of a board fence around the graves of the boys who died in Salisbury prison. O'Callaghan was in Company F, 25th Infantry, from Sept., 1864 to June, 1865.
Clara Prentiss, a civilian. Three letters (Nov. 18 and 25 and Dec. 6, 1862) from Baltimore relating to the condition of Frank Woodruff in hospital.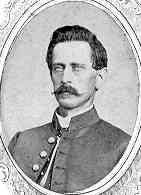 James A. Sage, from
Charles Woodruff papers
James A. Sage, who served in Company B, 25th Michigan Infantry. One letter (Jan. 28, 1864) written from Detroit.
This collection is available on microfilm for interlibrary loan.