Michigan in the Civil War
Browse by Name: Rhodes, George
Butterworth family.
This collections is available online.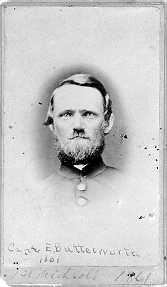 Ebenezer Butterworth, from the family papers
Three letters relating to Captain Ebenezer Butterworth of Company C, 1st Michigan Infantry, including a letter (Apr. 29, 1861) from the "Coldwater Young Ladies" presenting Butterworth's regiment with a token, and letters relating to Butterworth's death from George Rhodes (Aug. 21, 1861) and from Wells Walbridge (Dec. 27, 1861). Butterworth lived in Coldwater, Mich.
This collection is available on microfilm for interlibrary loan.