Michigan in the Civil War
Browse by Name: Soule, Harrison.
Soule, Harrison, 1832-1922.
This collections is available online.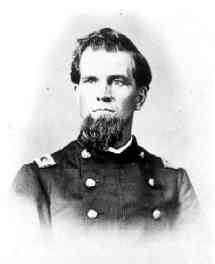 Harrison Soule, from his papers
The second volume of a very fine diary (July 4, 1863-Sept. 5, 1865) written while he was serving as captain and major in the 6th Michigan Infantry and Heavy Artillery in the lower Mississippi campaign. He describes the building of fortifications, especially at Port Hudson and at Fort Morgan; comments on Negro labor and troops; lists casualties from sickness, picket and river skirmishes, and the bushwhacking of passenger, troop and cargo boats; gives an account of a landslide and of storms and shipwrecks; of raiding parties and the provisioning of troops; and a most vivid account of the preparations for and of the siege of Mobile Bay with its fearful loss of life among untried and inexperienced troops.
One hundred seventy letters written to his wife (1861-1865) tell of camp life on Ship Island; the shelling of Forts Jackson and St. Philip and the occupation of New Orleans; of a march through a cypress swamp; of getting provisions and wood along the river. He bitterly criticizes General Williams, the "Home Patriots" and "Short Termers"; comments on Negroes as laborers and soldiers, on guerrilla warfare, and the reaction of the citizens of Baton Rouge to Union occupation. There is a detailed account of the siege of Port Hudson and its occupation by Union troops and of shipping and troop movement on the Mississippi. Major Soule, from Albion, Mich., became treasurer of the University of Michigan and vice president of the First National Bank of Ann Arbor after the war.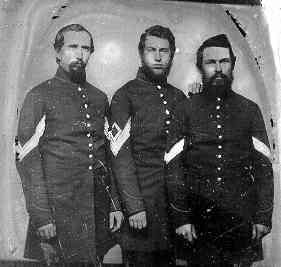 J. Blake, Byron Stoddard, and Henry H. Bascom
The collection also includes one letter (Sept. 8, 1862) written by Byron Stoddard of Concord, Mich., from Camp Williams, La., to Captain Soule. He gives news of the men in his regiment and comments on General Butler's commendation of the men for their part in the battle of Baton Rouge. Stoddard enlisted in Company I, 6th Michigan Infantry, as sergeant, in 1861, was wounded in action at Baton Rouge, commissioned second lieutenant in July, 1863, but died a few days later.
This collection is available on microfilm for interlibrary loan.