Michigan in the Civil War
Browse by Name: Tuttle, Richard D.
Spaulding, Oliver Lyman, 1833-1922
This collections is available online.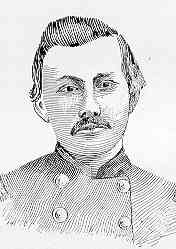 William Ely Lewis, from Wells B. Fox, What I Remember of the Great Rebellion. Lansing, 1892.
Three diaries (1862-1865) tell of the everyday routine of army life, military operations in Kentucky, and comment on the weather, on the freeing of the slaves, and on other officers. Spaulding's "Military Memoirs" give a complete account of his army activities from the organization of his regiment through the Kentucky and Tennessee campaigns to his discharge. A testimonial (June 22, 1865) from officers of the 2nd Brigade, written at Salisbury, N.C., orders, official correspondence, and miscellanea regarding Morgan's Raid are also included. Spaulding, from St. Johns, Mich., entered the service as second lieutenant in Company A, 23rd Michigan Infantry, was made a colonel in 1864, and honorary brevet brigadier general in 1865. In later life he was a teacher, lawyer, Assistant Secretary of the Treasury, and a United States representative.
Also included in the collection are three letters from civilians in Charleston, S.C., describing the attack on Fort Sumter and other events of the beginning of the war. Two letters (Mar. 22 and Apr. 9, 1861) are from W. T. Adams, and the other (Oct. 24, 1861) is from Richard D. Tuttle.
The collection also contains letters from other soldiers:
A. W. Alford, a Confederate soldier serving in Company A, Ashberry's Regiment, Perran's Brigade. One letter (May 25, 1862) from Steubenville, Ky.
Benjamin W. Huston, of Vassar, Mich., captain of Company D, 23rd Michigan Infantry. One letter (Aug. 29, 1863) from Lebanon, Ky.
William Ely Lewis, of St. Johns, Mich. One letter (Jan. 14, 1862) written from Beaufort, S.C., to Colonel O. L. Spaulding in which he tells of storming a rebel battery and burning rebel property; criticizes the slowness of the war and General Sherman. Lewis entered the service in Company B, 8th Michigan Infantry, as first lieutenant and rose to major in 1863. He was wounded in action on James Island, S.C., and killed in action at Cold Harbor, Va.
This collection is available on microfilm for interlibrary loan.