Join us for the Bentley Historical Library's series of talks exploring the history of the University of Michigan.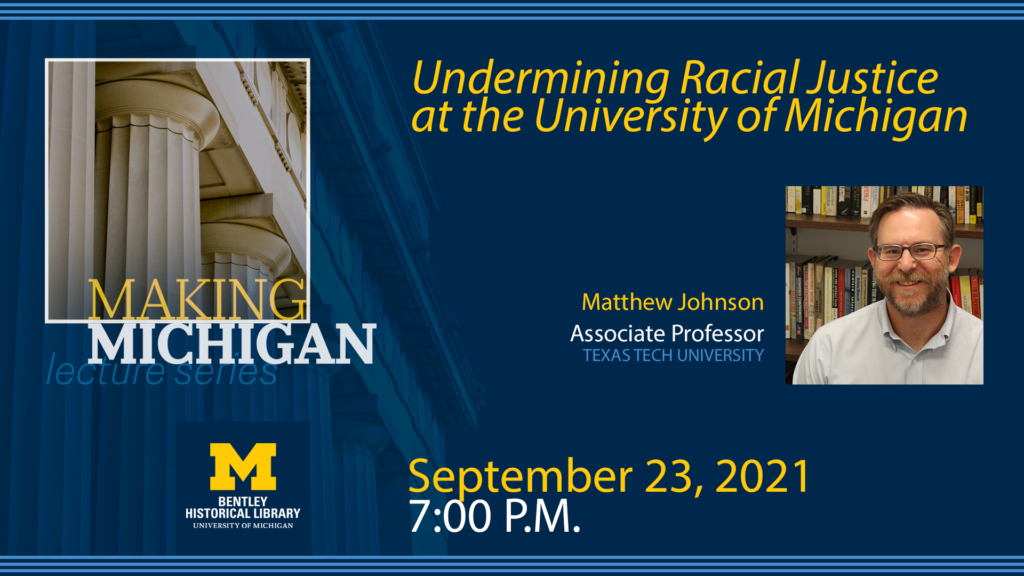 What You Will Learn
In this installment of the Making Michigan lecture series, you'll learn how University of Michigan administrators have reacted to activism for racial justice. You'll understand how administrators even crafted policies that preserve racial inequality. This lecture will also highlight documents at the Bentley Historical Library that made research on this topic possible.
About the Speaker
Matthew Johnson is Associate Professor of History at Texas Tech University and the author of Undermining Racial Justice: How One University Embraced Inclusion and Inequality. The book explores how University of Michigan officials co-opted movements for racial justice from the 1960s to the 21st century.
Join us September 23, 2021 at 7:00 P.M.

The Boundaries of Pluralism: The World of the University of Michigan's Jewish Students from 1897 – 1945 with Andrei Markovits and Kenneth Garner
Radical Roots, Contested Place: African American and African Studies at U-M with Stephen Ward
Anti-Fascism at U-M: Defending Democracy During the Spanish Civil War with Juli Highfill
Constructing Gender: The Origins of the Michigan League and Michigan Union with Nancy Bartlett and Sarah McLusky
Campus Chords: Devotional Harmonies and the Dissonance of Difference in the University of Michigan's Songbook with Mark Clague
Pathways to Greatness: How the University of Michigan Became a World-Class University…and What it Cost with Terry McDonald