Join us for the Bentley Historical Library's series of talks exploring the history of the University of Michigan.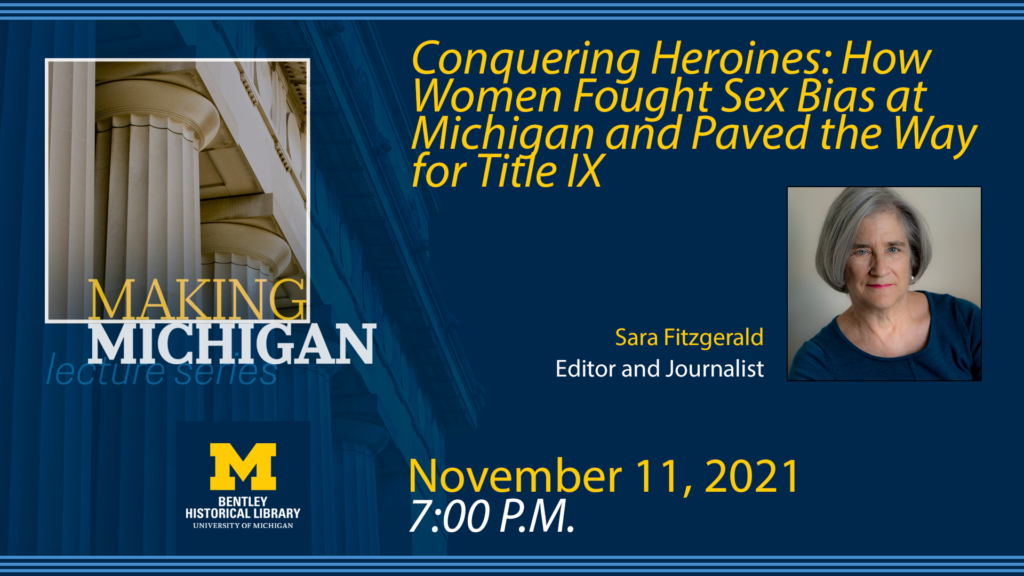 What You Will Learn
Attendees will learn details about the discrimination women in academia faced 50 years ago, and a key event in University of Michigan history as women challenged sex bias on campus. The talk will reflect on how some of the obstacles in place 50 years ago still need to be addressed today. 
About the Speaker
Sara Fitzgerald is retired after a career that included 15 years as an editor and new media developer for The Washington Post. Her book Conquering Heroines is based on an episode that she covered for The Michigan Daily, where she was the first woman to serve as editor-in-chief. She is also the author of Elly Peterson: "Mother" of the Moderates and The Poet's Girl: A Novel of Emily Hale and T. S. Eliot. She graduated from U-M in 1973 with a major in history and journalism.
Join us November 11, 2021 at 7:00 P.M.

The Boundaries of Pluralism: The World of the University of Michigan's Jewish Students from 1897 – 1945 with Andrei Markovits and Kenneth Garner
Radical Roots, Contested Place: African American and African Studies at U-M with Stephen Ward
Anti-Fascism at U-M: Defending Democracy During the Spanish Civil War with Juli Highfill
Constructing Gender: The Origins of the Michigan League and Michigan Union with Nancy Bartlett and Sarah McLusky
Campus Chords: Devotional Harmonies and the Dissonance of Difference in the University of Michigan's Songbook with Mark Clague
Pathways to Greatness: How the University of Michigan Became a World-Class University…and What it Cost with Terry McDonald
Undermining Racial Justice at the University of Michigan with Matthew Johnson 
Michigan Football Game Films, 1930-1986: Digitizing Game-Day History