How are records transferred?
The University Archives document the life of the University by collection materials created by students, faculty, administrative and departmental staff during the course of their time here. If you are looking to donate materials that are related to the University of Michigan, please get in touch with the Records Management Program at UMrecords@umich.edu.
How should records be prepared for transferal?
Transferring records of enduring historical value ensure that your unit, department or office is part of the University's history. Records can be transferred in either digital or paper format.
To transfer digital files
The Bentley accepts records in digital formats, whether they have been continuously maintained in digital format since creation, or whether they have been digitized from analog formats. Tools and procedures for transferring digital files are subject to change as systems and formats continue to evolve. Contact the Records Management Program at UMrecords@umich.edu to arrange a transfer that is best suited to the amount and type of material to be transferred.
To transfer paper files
Identify records for transfer.
Contact the archives and obtain archival-quality Paige boxes.
Fill and label the boxes.
Provide the Bentley with a box manifest in hard copy and via e-mail.
Contact the Records Management Program at UMrecords@umich.edu to arrange delivery of your records to the Bentley Historical Library.
How are records accessed after they are transferred to the archives?
After records are transferred to the Bentley Historical Library and processed, members of the Bentley staff can help units, departments and offices gain access to records they may need. Bentley staff are also available to help with requests origination from University units that relate to matters of general University history. Depending on the nature and complexity of the inquiry, these requests may be forwarded to the Bentley's reference staff. The Bentley Historical Library Reference staff offers assistance in person, by phone, and by email.
Why are some transferred records restricted from use?
University records are pubic records and once fully processed are generally open to research use. Records that contain personally identifiable information (PII) will be restricted in order to protect individual privacy. Certain administrative records are restricted in accordance with university policy. The restriction of university records is subject to compliance with applicable laws, including the Freedom of Information Act (FOIA).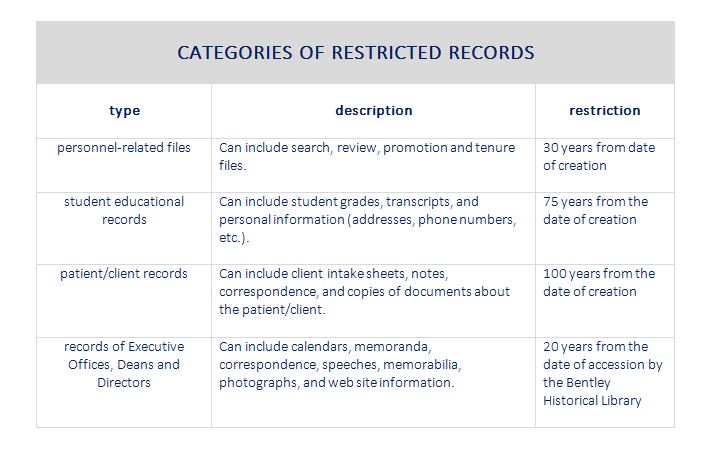 What happens to records that are not transferred to the University Archives?
Certain types of records may not have long-term historical value but must still be maintained for legal or financial compliance purposes. Such records may include financial records, grant documentation, and student and personnel records. Before undertaking the long-term storage of your records, it is important to know how long records must be kept in accordance to University policy, industry standards, and legal compliance.  Any unit, department or office interested in learning more about retention requirements is encouraged to contact the program at UMrecords@umich.edu.