For over a century, the game program has been a part of Michigan's football tradition. Whether on a simple scorecard or a 180-page volume, the art and design of the program cover have promoted and celebrated the team and the university. Together with tickets, posters, pocket schedules and a wide array of ephemera, the program covers provide a rich collection of visual images documenting a major component of campus and community life.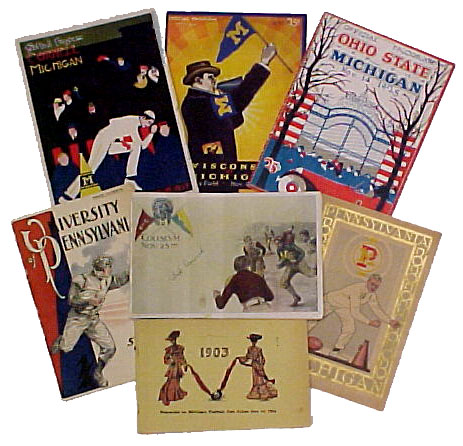 Over the years, the "official" game programs have been published by the Student Athletic Association, commercial publishers, the university's Board in Control of Student Publication, the Board in Control of Intercollegiate Athletics, and by the Athletic Department jointly with commercial firms. The artwork for the program covers has been created by students, famous and not-so-famous artists, university publications department staff, and a host of photographers. The style of the artwork often reflected trends in popular culture and art. The influences of art deco, moderne, Norman Rockwell and photojournalism can all be found.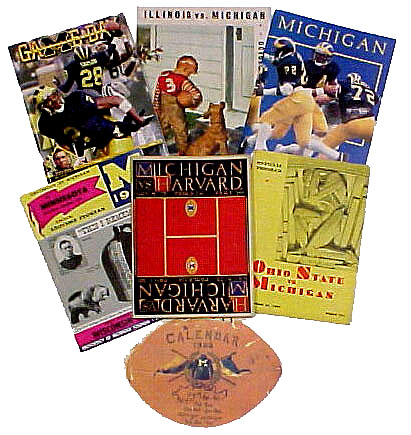 The items in this exhibit are drawn from the Bentley Historical Library's collection of nearly 100 football game programs in the records of the Athletic Department and several personal manuscript collections. The library holds 9 programs from the years 1894-1999 and 54 from 1901-1924. Beginning with the 1925 season, the Bentley has a nearly complete collection of home game programs and approximately 70 percent of away game programs. Images of more program covers can be found at the Bentley's Football Program Database.
The Bentley Historical Library serves as the official University of Michigan archives and collects, preserves and makes available for research use, material documenting the university from its founding in 1817 to the present. The archives holdings of over eleven thousand cubic feet of records, published material, audiovisual materials, and electronic format items document all functions and activities of the university community. The library has established a close relationship with the Athletic Department to document and preserve Michigan's athletic history. The library also documents the history of the state of Michigan and the activities of its people and non-governmental organizations and associations. See the Bentley's homepage for additional information about the library's misson and program.